Based within a 13th century manor house, close to the villages of Santanyi and Felanitx, this is one of Mallorca's finest rural hotels. It is described as Agro tourism. The manor has been totally rebuilt and redesigned as a top hotel. The hotel has just 16 rooms within the main house and an additional block of rooms on the side.
All the rooms are different, each one having its own unique character yet all retaining a Mallorquian theme. They are tastefully furnished and well equipped. Each has air conditioning and heating, satellite TV, a mini-bar and bathroom with shower and bath. Beds are of huge proportions and very comfortable. Most rooms have four poster beds.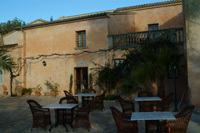 The public areas include a cosy lounge with log fire, period furniture and antique paintings. There are several sunny terraces including one used for breakfasts. The restaurant is also used for breakfasts, lunches and evening meals from the varied menu. You can expect freshly squeezed orange juice from oranges in the gardens. You can collect tourist information from the reception.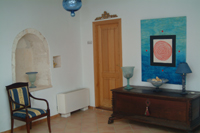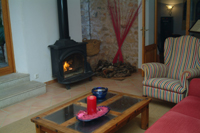 The hotel has a large outdoor swimming pool with sunbathing areas, surrounded by trees for shade.
Idealspain's opinion
We visited Sa Galera in January 2003 and found the hotel just preparing to open for the season. The hotel is an absolute gem, located within beautiful countryside and within easy reach of the coast. The hotel is perfect in every way; everything was spotlessly clean and well presented. The staff at the hotel spoke perfect English as well as many other languages. They offer a professional service and genuinely care about the guests. A great deal of thought has gone into the design of the hotel as well as the management. The hotel was peacefully quiet and very comfortable. We have no hesitation whatsoever in recommending this hotel to our readers.
Sa Galera is very easy to find. Take the main road from Santanyi to Ca's Concos and at km 6.3 you will see a turning to your right. The hotel is well signposted.


Idealspain's bed rating
is based upon cleanliness,
facilities and treatment of guests