Most will depend on the area that you visit as each area has its own particular specialties but some of the most common are;

Leather
Spain has an ample supply of very high quality leather and leather goods ranging from the smallest purse or handbag to leather furniture. Look out for the large factory outlets although watch the prices. You may find the range of goods better but the prices will be higher than those in the small shops.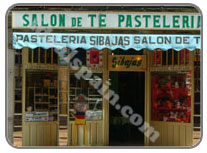 A cake shop
Lace
Many areas of Spain are known worldwide for the intricate lace and linen. Qualities do vary considerably and be wary of street sellers selling lace and linen in sealed packs; chances are the set will not be complete or the goods will be seconds. You are better to buy from a shop where you can handle the goods first.
Buying cigarettes and tobacco in Spain - a rough guide here
Shop opening hours in Spain
Most shops in Spain open at 10.00am and close for siesta at 2.00pm, re-opening at 5.00pm until 8.30 or 9.00pm. Many shops open 10.00 – 2.00 on Saturdays and most close on Sundays. You may find several shops open on Sundays in coastal holiday resorts.
Etiquette in Spain
It is not normal to barter in shops unless they are very small establishments or on market stalls. Most shops now take all major credit cards. Foreign debit cards are rarely accepted. Cheques are not accepted unless they are Spanish Euro cheques and this is becoming rare. Be prepared to present your passport or driving licence if paying by credit card.
Queuing is normal in Spain and in general everyone is polite and complies.
Types of shop
Markets
Most towns and cities have their own weekly market where bargains can be had as well as an insight into local crafts and produce. It is quite acceptable to barter prices at markets and one should be careful for opportunist thieves who target tourists handbags and pockets.
See our video of market shopping here
Hypermarkets
These are becoming very popular especially in tourist resorts and cities. In the larger stores it is quite common to find a variety of small outlets alongside a major supermarket. Many incorporate hair salons, tobacconists, dentists, shoe repairs, camera shops etc, etc.