Cuisine
The delights of La Rioja cuisine are as wide and varied as its landscapes. From heavy stews in the north to lighter dishes in the south. Potatoes flavoured with a spicy sausage called chorizo is one of the most typical dishes. Young goat or lamb roasted over vine prunings is another favourite. Trout, Barbel, tripe dishes and cheeses are present in most menus. Fresh vegetables are also in plentiful supply.
Crafts
The region has a wide range of crafts to offer such as the famous, fine furniture, barrels, utensils and wooden carvings, leather goods, tapestries and wicker work. Colourful ceramics and metal work also abound in the area.
Leisure
The mountains of La Rioja are a paradise for hiking, climbing and other mountain related sports. Skiing facilities can be found in Valdezcaray, aerial sports can be practiced in Lardero and water sports in El Rasillo. Cycling is popular throughout the whole region. Hunting is possible in three areas and you can fish for trout, barbel and crabs. For more information about permits, call +34 941 29 11 00.
Fiestas
There are four fiestas of interest to the tourist: La Vendimia is held in Logroño on September 21st and is a display of grape-treading, floats and wine-tasting.
The fiestas in Santo Domingo de la Calzada on May 12th include parades and dances which extend into the neighbouring villages. La Batalla del Vino in Haro on June 29th is an authentic battle with the 'blood of the earth' used as the only weapon, dousing the participants in a shower of wine. The ancient Danza de los Zancos, held in Anguiano on June 22nd is a day of traditional dancing on stilts.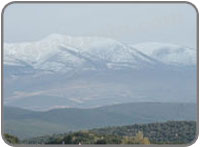 The snow capped mountains of the Sierra del Moncayo