Hidden away in one of Mallorca's most beautiful villages of Fornalutx. This wonderful little hotel is located just a few steps from the main square and car park as you enter the village. It has the unique character you would expect from a small hotel and the owners will guarantee you a warm welcome. The hotel is set in a tiny narrow street, inaccessible by car which ensures a quiet stay. At the back of the hotel is nothing but orange groves and mountains which give you the most amazing views. The biggest thing that this hotel can offer is peace and quiet.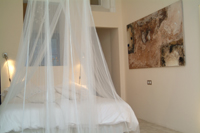 The reception and public areas are decorated with antique furniture and the walls present unique pieces of contemporary art.
At the rear of the hotel you will find the private swimming pool, fed by pure mountain spring water. The overflow actually waters the orange trees. There is also a large garden to enjoy as well as terrace areas and a sauna.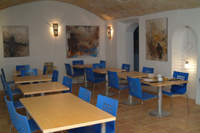 Before a total restoration, the hotel was a convent and later, the village school. All rooms have bath or shower and there are two luxury suites. One of the suites is the former chapel and is decorated in a modern style yet maintaining the features of the chapel. It has a private terrace with views to the mountains and gardens. Highly recommended.
Idealspain's opinion
A totally unique hotel with a wonderful character all of its own. Located in a beautiful little village, surrounded by mountains and orange plantations. This has to be one of the quietest hotels we have stayed in and we would highly recommend it. The rooms were decorated to a very high standard and tastefully furnished. The room had a fantastic view to the mountains, a private terrace, bath with shower, hairdryer, air conditioning and satellite TV. Very comfortable and truly a pleasure. One thing you are guaranteed of here is a good nights sleep.
The Petit Hotel Fornalutx can be found at C/Alba,22, Fornalutx
Tel (0034) 971 631 997
Fax (0034) 971 635 026
Website: www.fornalutxpetithotel.com
Email: info@fornalutxpetithotel.com

Please mention idealspain when making enquiries and bookings
that's what keeps us in the number one position
Idealspain's bed rating
is based upon cleanliness,
facilities and treatment of guests