Sitting high on a cliff, more than 725 metres above sea level, the beautiful village of Comares is a jewel within the Axarquia region of Andalucia.

Steeped in history, Comares makes a wonderful visit and the walk around the village is pleasant and safe. There's a planned walking route, following ceramic footsteps, guiding you to the best places to see, many of which are inaccessible to traffic. The central route takes around 30 minutes to walk.

Location of Comares

Comares is 35km from Malaga and just 25km from the coast. Torre del Mar is the nearest coastal town. The population is around 1,700 which includes a good population of foreign residents who have made the village their home.

What to see in Comares

The Moorish fortress, once a Roman military outpost, known as La Tahona has two turrets still remaining.

The Church of Nuestra Senora de la Encarnacion is a 16th century building in Mudejar style.
The history of Comares
The name 'Comares' originates from the Arab word for castle, 'Qumarix'. In Nazari times it was known as Hins Qumarix, or 'High Castle'. Other sources spell the name as Comarix, Qumaris or Qumarich.

The first fortress in Comares was built by the Romans, but the history of the town is pre-Roman and the main traces of occupation are Arabic.

When the Moors invaded Comares they made full use of its excellent location and developed the town into one of Axarquia's principle defensive strongholds. During the 11th century Comares became the regional administrative headquarters of Cutar, El Borge, Almachar and Moclinejo. By the 15th century, however, Moorish rule in Spain was declining and when Velez-Málaga fell to the Christians in May 1487. The last Moslem governor of Comares, Mohammed El Jabis, paid homage to the Catholic monarchs in the hope of staving off invasion. But in late 1487 Comares fell to the Christians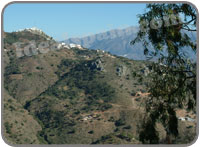 Fiestas and traditions in Comares
Official Fiestas: 
January 13th 
June 6th 
Popular Fiestas: 
Mid January - Fiesta de San Hilario 
Mid May - Village Fair & Festival of International Dance 
July - Fiesta of Verdiales 
Mid August - Feria de Las Cuevas 
Late August - Feria de Comares 
Early September - Night of the Candles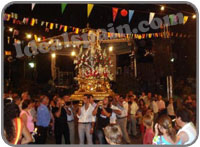 Contact telephone numbers for Comares
Chemist: 952 509 231 
Emergency Doctor: 061 
Medical Centres: 952 509 284 / 952 517 010 
Guardia Civil: 952 509 201 
Local Police: 952 110 354 

Emergency Police: 091 
Town Hall and Council: 952 509 233 
Council website: www.comares.es