Idealspain visited this hotel in July 2003. Here are our comments;

Location
The hotel is situated approx ten minutes from Santiago de Compostela, within a 14,000 square metres estate. Much of the estate is thick forest which ensures a peaceful location. The estate has direct access to the River Tambre and is 3km from the nearest village. The house is a fully restored 18th century mansion. It consists of the main house and several rooms within an additional building.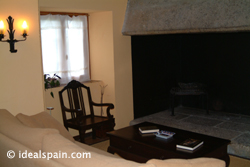 Accommodation
The whole complex has been restored to a very high standard and the family have considered every need of the guest. The rooms are furnished with period furniture and are very spacious. There are shared lounges and public spaces, filled with antiques and interesting objects. There are just 9 double rooms and 2 singles. The rooms have heating, TV, phone and fully equipped bathrooms.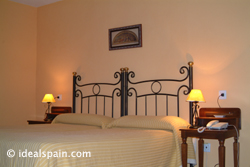 Facilities
The hotel has facilities for disabled persons. At your disposal are cycles, a gym and sauna, library, lounges and a games room. The grounds are a delight, as is the swimming pool. Other facilities can be arranged such as river fishing, walks and guided visits. The dining room offers evening meals and breakfasts. The evening meals are wonderful and offer you the chance to sample genuine Galician cuisine in great surroundings. Breakfasts are hearty and excellent value.