Archidona is a quite small, insignificant town located between Malaga and Antequera, within Andalucia.
The main attraction is the 9th century hermitage, located high on the hill, overlooking the town. The energetic walk from the town, those like us drive up. The road is a nail-biting experience but with care, is navigable. The views from the top are spectacular and there is a bar near the top if you need refreshments. Close to the hermitage you will find the old castle walls, partly restored.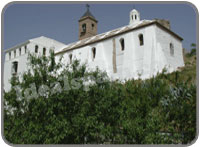 At the end of May the town hosts the annual Dog Fair, the largest in the area and now declared of national importance. Thousands of dog lovers and dealers converge on the town to buy, sell and show off their dogs. Contact the tourist office for exact dates. If you do visit the fair, bear in mind the town becomes very congested and arrive early. Pictured right, one of the entries is checked over by the vet.

The three-day event also includes a street event when the dogs are driven through the town, to the firing of rifles.
Low cost car hire in this part of Spain - Instant quotes, online booking and guaranteed reservations. Access to all the top car hire companies in Spain
Insure your holiday home in Spain at unbeatable rates