Idealspain visited this hotel in February 2002. Here are our comments;
Location
The Melia Sevilla is located close to the Plaza de España, within easy reach of the Cathedral and other monuments. The hotel is a luxurious four star, perfect for business or just a visit to the city. The hotel is easy to get to and has it's own car park.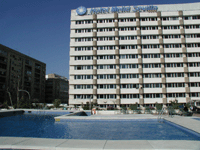 Accommodation
The hotel has 364 rooms of various sizes, including a floor dedicated to their Royal Service. All rooms are equipped to the highest standard and have safe, air conditioning, satellite TV, radio, mini-bar, telephone, PC connection and 24 hour room service. The rooms are tastefully furnished and un-cluttered. Bathrooms are modern and well equipped.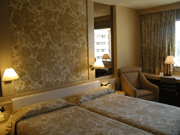 Facilities
The hotel features and outdoor swimming pool, sauna, fully equipped gymnasium, piano bar, restaurant, cafeteria and much more.
The reception is open 24 hours by efficient and very pleasant staff who speak English. They will be able to help you with information about the city and any special requirements you may have. The reception area is of polished marble with a huge open lounge area, with comfortable seating amid statues and water features.
Our opinion
The Hotel Melia Sevilla is more than your average hotel. The hotel has thousands of square metres dedicated to business and conference facilities. Modern technology is fitted throughout the conference centre for presentations and meetings and the whole system is flexible to cope with your individual requirements.
Our review: We visited the hotel in February 2002. We found the hotel one of the best we had stayed in. The staff were very professional and made us very welcome. The facilities really are as good as they look. The hotel is modern, well equipped and very comfortable. We would have no hesitation in recommending the hotel to anyone.