Hotel Casona de Bustiello
C/Infiesto Villaviciosa s/n, 33535 Infiesto, Coya - Piloña, Asturias
Tel (+34) 985 710 445

Idealspain visited this hotel in July 2003. Here are our comments;

Location
The Hotel is located in the town of Infiesto, within Asturias.
The architectural style was typical in Asturias in the last century and it was constructed in stone and wood as is common in old " Casonas de Indianos". The area is rich in prehistoric heritage with Tito Bustillo, El Buzo and El Pindal cave paintings. There are numerous examples of Romanesque and gothic art. The hotel is located within rich countryside, away from busy traffic. The views are superb.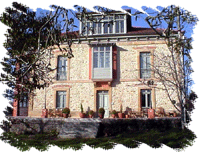 Accommodation
The accommodation consists of 8 double rooms all with en-suite bathrooms with hairdryer and courtesy toiletries. Rooms have central heating, telephone, television and a welcome gift. The rooms are all decorated in different styles with colonial and antique furniture. The rooms are beautifully decorated and furnished. Comfort is the key word and everything is located within the main house.
Facilities
The hotel has a spacious lounge with a traditional stove, a well stocked library
and reading - games room. There is a games room for the children with table tennis and more. Because of the rural location of the hotel, outdoor activities are easy. The area is perfect for cycling and walking. The hotel has several horses available for horse riding.
Meals are taken in the dining room which is very comfortable. Traditional Asturian dishes are available. There are several terraces to enjoy the fresh air. The gardens are a delight. There is ample parking.
Hotel Casona de Bustiello
C/Infiesto Villaviciosa s/n, 33535 Infiesto, Coya - Piloña, Asturias
Tel (+34) 985 710 445
Website: www.hotelcasonadebustiello.com
Email: info.hcb@hotelcasonadebustiello.com

Please mention Idealspain when contacting the hotel